Schematic Showing Stages of Hematopoiesis
Image ID: 13651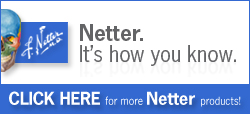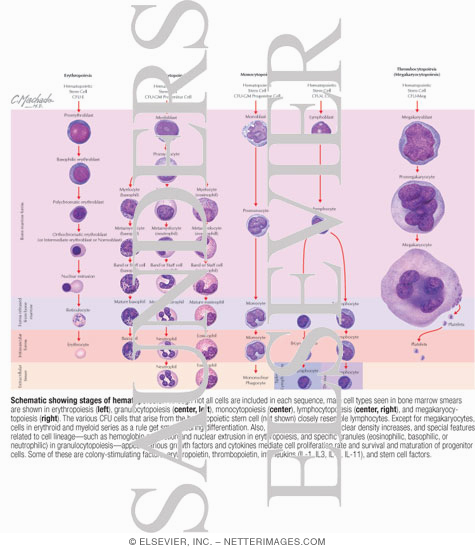 Schematic showing stages of hematopoiesis. Although not all cells are included in each sequence, main cell types seen in bone marrow smears are shown in erythropoiesis (left), granulocytopoiesis (center, left), monocytopoiesis (center), lymphocytopoiesis (center, right), and megakaryocytopoiesis (right). The various CFU cells that arise from the hematopoietic stem cell (not shown) closely resemble lymphocytes. Except for megakaryocytes, cells in erythroid and myeloid series as a rule get smaller during differentiation. Also, nuclear size declines, nuclear density increases, and special features related to cell lineage—such as hemoglobin production and nuclear extrusion in erythropoiesis, and specific granules (eosinophilic, basophilic, or neutrophilic) in granulocytopoiesis—appear. Various growth factors and cytokines mediate cell proliferation rate and survival and maturation of progenitor cells. Some of these are colony-stimulating factors, erythropoietin, thrombopoietin, interleukins (IL-1, IL3, IL-6, IL-11), and stem cell factors.
The preview images do not contain enough pixels to make small type legible on screen, however,
the actual delivered images will contain labels that are clearly legible. (view PDF preview)
Other Versions of This Illustration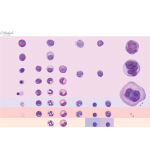 This Illustration was Published In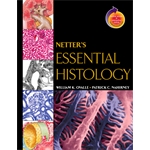 If you can see this message, you need to update your Flash Player.