Light Micrograph of a Fetal Nail In Longitudinal Section With Light Micrograph of Part of a Fetal Phalanx In Longitudinal Section
Image ID: 14278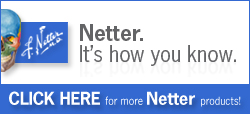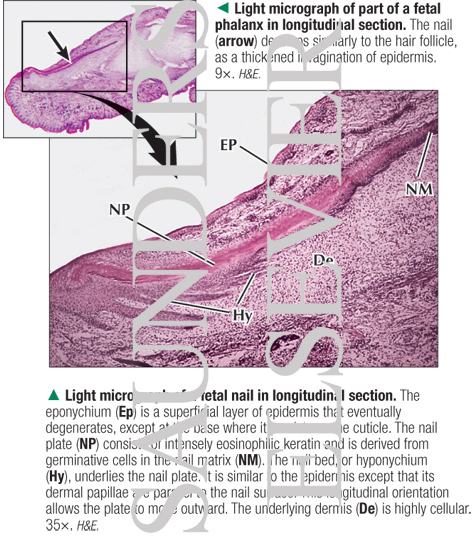 LM of part of a fetal phalanx in longitudinal section. The nail (arrow) develops similarly to the hair follicle, as a thickened invagination of epidermis. 9×. H&E.
LM of a fetal nail in longitudinal section. The eponychium (Ep) is a superficial layer of epidermis that eventually degenerates, except at the base where it persists as the cuticle. The nail plate (NP) consists of intensely eosinophilic keratin and is derived from germinative cells in the nail matrix (NM). The nail bed, or hyponychium (Hy), underlies the nail plate. It is similar to the epidermis except that its dermal papillae are parallel to the nail surface. This longitudinal orientation allows the plate to move outward. The underlying dermis (De) is highly cellular. 35×. H&E.
The preview images do not contain enough pixels to make small type legible on screen, however,
the actual delivered images will contain labels that are clearly legible. (view PDF preview)
Other Versions of This Illustration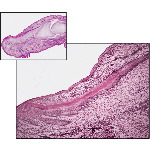 If you can see this message, you need to update your Flash Player.