Low-power Light Micrograph of the Ovary With Light Micrograph of Part of the Corpus Luteum
Image ID: 14725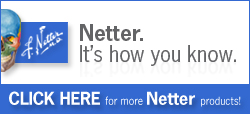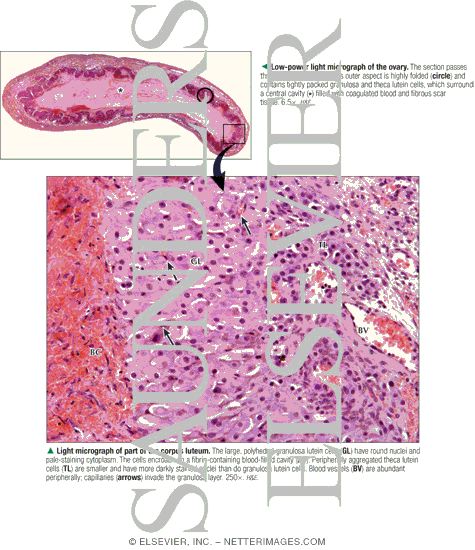 Low-power LM of the ovary. The section passes through a corpus luteum. Its outer aspect is highly folded (circle) and contains tightly packed granulosa and theca lutein cells, which surround a central cavity (*) filled with coagulated blood and fibrous scar tissue. 6.5×. H&E.
LM of part of the corpus luteum. The large, polyhedral granulosa lutein cells (GL) have round nuclei and pale-staining cytoplasm. The cells encroach on a fibrin-containing blood-filled cavity (BC). Peripherally aggregated theca lutein cells (TL) are smaller and have more darkly stained nuclei than do granulosa lutein cells. Blood vessels (BV) are abundant peripherally; capillaries (arrows) invade the granulosa layer. 250×. H&E.
The preview images do not contain enough pixels to make small type legible on screen, however,
the actual delivered images will contain labels that are clearly legible. (view PDF preview)
Other Versions of This Illustration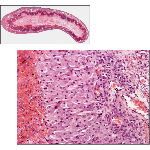 If you can see this message, you need to update your Flash Player.