Netterimages.com
is a collection of medical illustrations by world renowned medical illustrator,
Frank H. Netter, MD
, and physician-artists,
John Craig
and
Carlos Machado
.
Topics range from human anatomy to clinical disease states to new therapeutic technologies. Illustrations in this collection are offered for sale as rights-managed imagery.
Featured MiniCollection
the
Hand
An image collection which shows wrist and hand bones, fingers, joints, and muscles of the hand. See examples of blood and lymph vessels, nerves and structures in cross section.
Browse a Netter
MiniCollection
The Netter MiniCollections are predefined lightboxes created to aid users in finding images on common health topics.

the
Spine
The series of vertebrae forming the axis of the skeleton and protecting the spinal cord

the
Wrist
The region of the upper limb between the metacarpus and the forearm.

the
Neck
The part of the body of an animal or human being that connects the head and the trunk.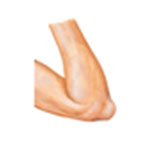 the
Elbow
The joint between the human forearm and the upper arm that supports the outer curve of the arm when bent.

the
Knee
The hinge joint in the human leg connecting the tibia and fibula with the femur and protected in front by the patella