Optical Parts of a Conventional Light Microscope Or Transmission Electron Microscope (TEM)
Image ID: 12921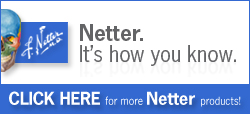 Optical parts of a conventional light (or bright-field) microscope. This compound microscope transmits light through three glass lenses. Light, first focused on a stained specimen by a substage condenser lens, passes through the specimen and then an objective lens, which magnifies and projects the illuminated image to the ocular lens. The ocular lens further magnifies the image and projects it to the eye of the viewer or a photographic plate. Most tissues are colorless, so color dyes serve as stains that differentially absorb light so that structures in specimens may be distinguished.

Optical parts of a transmission electron microscope (TEM). A TEM transmits a beam of electrons through an ultrathin section of tissue that has been cut via an ultramicrotome. Several coiled electromagnetic lenses deflect electrons and use the same principle as that of light microscope lenses to condense, focus, and magnify images. Electrons from a heated tungsten filament (or cathode) are drawn toward an anode within a vacuum column. Electrons are not visible to the naked eye, so a fluorescent screen or photographic plate records the image as a black and white electron micrograph (EM). The advantage of the TEM is great resolving power.
The preview images do not contain enough pixels to make small type legible on screen, however,
the actual delivered images will contain labels that are clearly legible. (view PDF preview)
Other Versions of This Illustration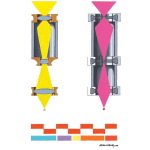 This Illustration was Published In
If you can see this message, you need to update your Flash Player.